updated October 2020
CURRENT PROJECTS
Relevès 2020

Pre-Covid-19 Glass Beach
2020 Locations: Navarro Point, Mendocino Headlands, Russian Gulch, Glass Beach, Pudding Creek to Laguna Point
Continuing Relevès from 2019 building Veg-maps and Alliances along the coastal bluffs of the Mendocino Coastline. Participants - included Teresa Sholars, Renee Pasquinelli, Peter Warner, Alexis LaFever‐Jackson, Terra Fuller (State Parks),and Jim Gibson. Our first relevè for 2020 began with Glass Beach where we were joined by Jennifer Buck‐Diaz (Vegetation Ecologist with CNPS) and other CNPS interns including Alexis LaFever‐Jackson for an Introduction to the Collector App for sending our location data and other info to CNPS's ArcGIS Data base and a refresher on relevès.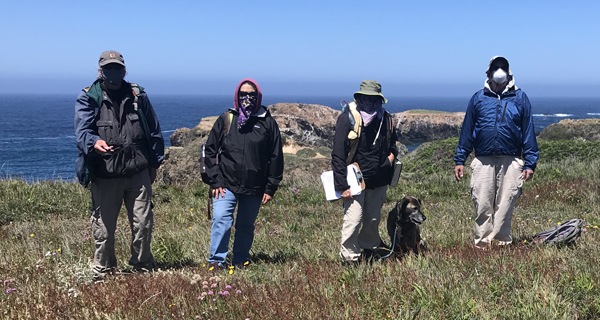 Mendocino Headlands Covid-19 Protocols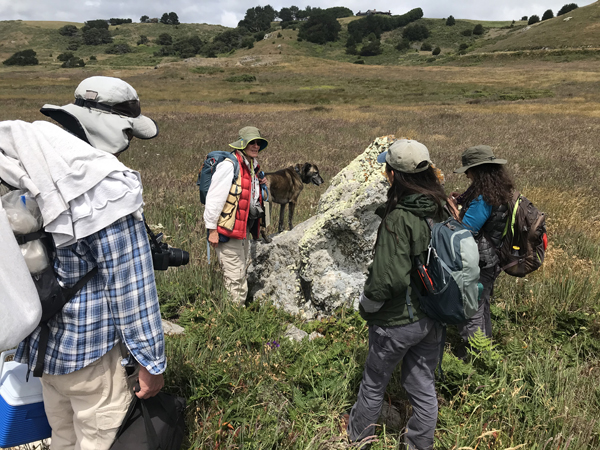 Navarro Point - Peter Warner, Teresa Sholars, Alexis LaFever-Jackson, Renee Pasquinelli
Stay tuned more to come!
Veg Mapping and Other Research
South Coast
Various locations on the South Coast and Sea Ranch
California Oaks Project
Dorothy King Young Chapter of the California Native Plant Society has joined
California Oaks Coalition
as partners in the
California Oaks Project
of the
California WildLife Foundation
"The four areas of support being developed for the coalition are:
 1) Research and advocacy updates (available at californiaoaks.org).
 2) Information to educate and engage the public.
 3) Tools for participating in planning processes and educating opinion leaders.
 4) Materials to inform local, regional, and state governmental agencies of the
  opportunities for and benefits of protecting oak woodlands..."
 ‐ OAKS [California Oaks Newsletter FALL/WINTER 2019/2020]