Updated 19 October 2022
CURRENT ACTIVITIES / EVENTS
Dogwood THP and More
Through legal action, the
Dorothy King Young Chapter
, last year in collaboration with the Friends of the Gualala River, successfully stopped the Dogwood THP, a plan that proposed to greatly impact a magnificent floodplain redwood forest and wetlands in coastal Mendocino County... excerpt from
CNPS.
Scroll down and choose the Dorothy King Young Chapter link for more information about the Dogwood THP and other areas of concern to the DKY Chapter
DKY ANNUAL MEMBERS' MEETING AND POTLUCK
Sunday, December 11, 2022
12:00-2:30 p.m.
Greenwood Community Center, Elk

Phil Van Soelen, will talk about
Supporting Native Biodiversity In Your Garden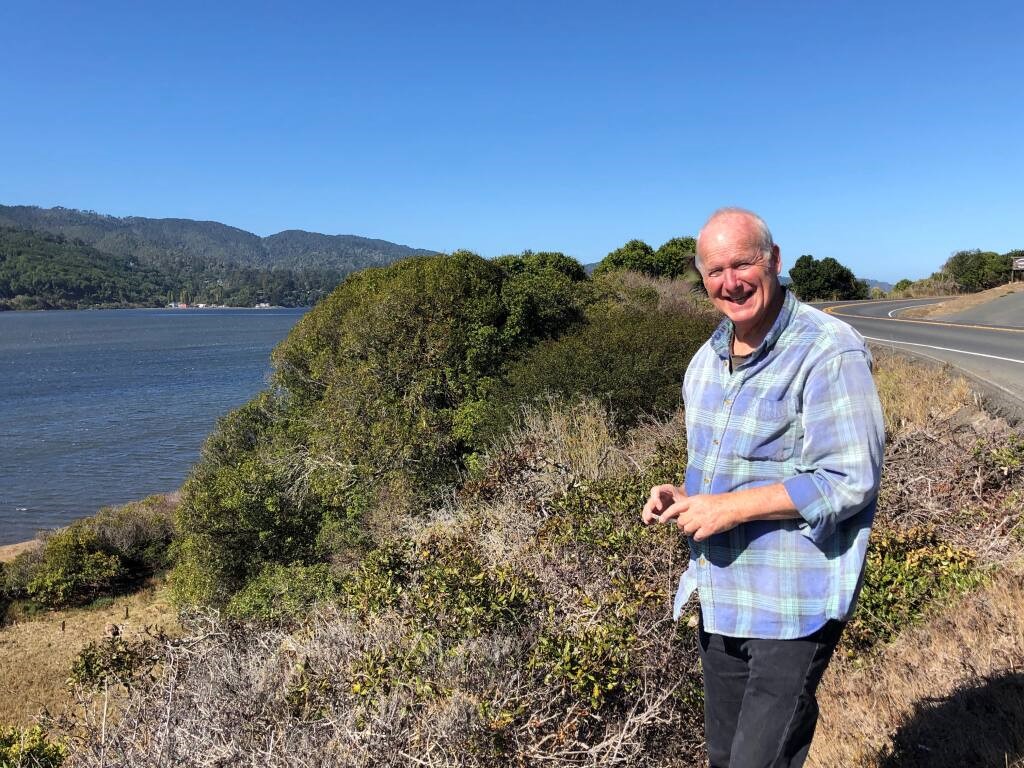 We know Phil mostly as the person who, with Sherrie Althouse, started California Flora Nursery-the source of most of the plants that we get for our annual plant sales. A trip to CalFlora Nursery is a glorious experience! He is retired now and has been spending some time exploring the Mendocino and Sonoma coast with his wife, Mary Killian. Phil combines an artist's eye (he attended California Institute of the Arts in Southern California) with an ecologist's knowledge (he has an undergraduate degree in environmental studies), and a conservationist's ethic (he has focused on protecting northern California rare plants through CNPS).Recently he was one of the featured horticulturists in "Under Western Skies: Visionary Gardens from the Rocky Mountains to the Pacific Coast," by Jennifer Jewel, published in 2021 by Timber Press. We are so honored that he will share his expertise with us at our potluck.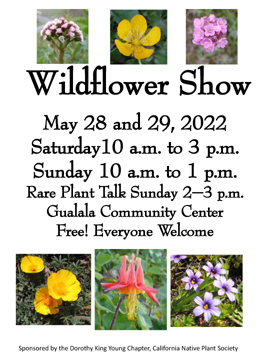 Saturday May 28, 10:00 AM-3:00 PM
Sunday May 29, 10:00 AM-1:00 PM
Sunday 2:00PM, a talk by botanist Nancy Morin




Gualala Community Center



December 2021
Elk Community Center/Virtual Zoom Meeting
The Dorothy King Young Chapter Annual Potluck Meeting at the Elk Community Center, hosted Teresa Sholars as the featured speaker. She gave a presentation on her research and author of Lupines in Jepson eFlora and Flora of North America. Video, separate audio files and PowerPoint of her presentation Adventures with Lupinus, from Populations to Publications are linked below. Due to technical difficulties at the site the first few minutes of her presentation is missing from the video and audio files. The PDF version of her PDF Powerpoint presentation is complete.
Video Zoom video recording Adventures with Lupinus, from Populations to Publications -Teresa Sholars
AudioAudio only file of Teresa's presentation
Power PointComplete Power Point Presentation
DKY Celebrates Native Plant Week
2021 Virtual Wildflower Tour
Point Cabrillo Light Station State Historic Park
Our 2021 Celebrating CNPS Native Plant Week begins with a slideshow of wildflowers to be found at Point Cabrillo Light Station State Historic Park. Katy Pye has put together this tour, map and guide to locations and trails where one might find these native wildflowers along with the blooming periods and the creatures that visit them for each species represented.
May 29th from 10-11 AM, Sunday, May 30th from 10-11 AM, Tuesday, June 1st from 10-11 AM
Mendocino Coast Botanical Gardens Parking Area
18220 North Highway 1, Fort Bragg, CA
Individual volunteer citizen scientists and other participants interested in the 2021 SOD training and sampling for the Mendocino Coast can pick up their envelopes to collect Bay Laurel and Tan Oak leaf samples for the UC Berkeley Lab research project to track the spread of Phytophthora ramorum in California.
Mario Abreu, DKY representative will "man" the 2021 SOD Blitz station scheduled at the Mendocino Coast Botanical Gardens enter parking lot on Saturday, May 29th from 10-11 AM, Sunday, May 30th from 10-11 AM, and Tuesday, June 1st from 10-11 AM for the "last chance" final drop off date and time to turn in sample envelopes from participants to be mailed to Doug Schmidt Wednesday morning, June 2nd. Contact: Mario Abreu 2021 SOD Blitzabre2021 SOD Blitzu2021 SOD Blitz a2021 SOD Blitzt 2021 SOD Blitzmc2021 SOD Blitzn.o2021 SOD Blitzrgs for details. Please do not contact the Botanical Gardens regarding this event.
Note: Participating SOD Blitz volunteers need go to the online website provided by the UC Berkeley Lab for training videos SOD Checklist and Sign up Link prior to event.Please wear a mask at the pick-up / drop-off station.
Remember, when emailing the contact, to replace the " *at* " with @ and no spaces as in name@domain. Thanks!
California Invasive Plant Council (CAL-IPC)
  Non-Chemical Weed Control
 This manual, available as a free download, provides comprehensive descriptions of 21 non-chemical weed control techniques used in California. It also provides descriptions of biological control agents targeting 18 of our state's most challenging weeds.
 Compiled by researchers and practitioners, the manual includes tips on how to use techniques, the kinds of plants and environments in which they work best, and the associated risks.

 These BMPs form the foundation for an online decision support tool being developed in partnership with UC Agriculture & Natural Resources, with funding from the California Department of Pesticide Regulation.
Date Online: Monday 15 February 2021
Online Presentation at KZYX (use the link above to listen)
"A look at Mendocino's rare Pygmy Forest ecosystem with local botanist Teresa Sholars" - Mendocino Voice, Lana Cohen